3 reasons to become a Direct Seller of Global IndiaGold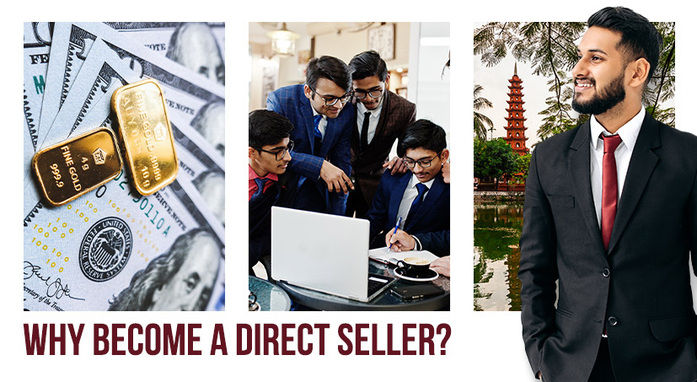 Do you want to have your own business, earn decent income and travel at the expense of the company?
Welcome to the Global IndiaGold online platform!
Take up Direct Selling and discover the world of business without borders!
Global IndiaGold has been successfully operating in the Indian market for several years now. The community of Direct Sellers is constantly growing, as people from all over the country are joining its ranks. Our doors are open to everyone!
Why become a Direct Seller?

1. Financial Security
We provide a comprehensive solution aimed at increasing the level of well-being: gold bars and your own business on the online platform. Such a combination will allow you to create a solid foundation for financial prosperity.
Gold is one of our company's products. The precious metal is considered a reliable tool for preserving savings all over the globe. In order to keep your savings topped up, create a source of income for yourself — become a Direct Seller! A ready-to-use business model that does not require special knowledge and skills is at your disposal. All you need is the ability to communicate and the desire to achieve results.
Gold will ensure protection against inflation, and your own business will help you accumulate savings and strengthen confidence in the future!

2. A unique community of like-minded people
Achieving Financial Security is much easier in a team than on your own. By partnering with Global IndiaGold, you will not be alone. You will become part of a large community with mutual support at its core. Here everyone is interested not just in personal success, but also in the success of partners in the business.
In these challenging times, being surrounded by like-minded people is of great value that can be compared to gold. The power of a community is infinitely greater than the power of just one individual. Together we are capable of overcoming any obstacles and realizing any plans!

3. Traveling
A reliable and stable business brings a person income that allows relaxing comfortably. It opens up an opportunity to visit different countries, communicate with interesting people, get acquainted with their culture, make new friends and implement exciting ideas and projects together with them. This is a global exchange of knowledge that helps achieving goals effectively.
The Golden Path promotion, which allows you to go on a trip at the expense of the company, is available on the online platform right now. Fulfill the terms of the promotion until November 1, 2023, and get a trip to a country which fascinates tourists from around the world. Magnificent Vietnam awaits you — the ideal place to have a great time in the company of like-minded people!
New impressions and unforgettable emotions will have a beneficial effect. You will return home full of energy and inspiration, and this is exactly what an entrepreneur needs for further accomplishments!
Experience the life of a successful Direct Seller in all its glory!
Join the Global IndiaGold community, ensure a secure future and be proud of the results achieved!