Golden Path: succeed in direct selling and travel to Vietnam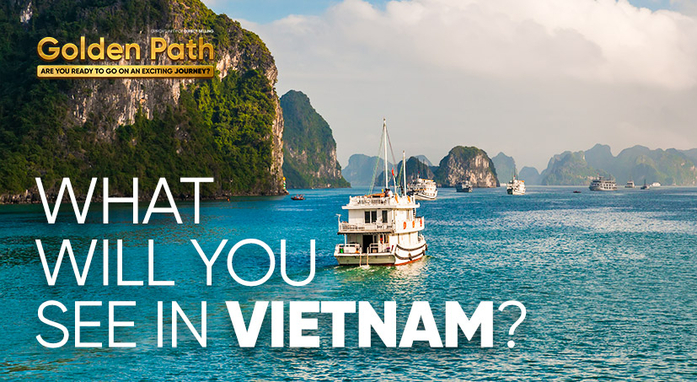 The Golden Path promotion is valid on the Global IndiaGold online platform!
Everyone who registers on the platform and obtains the Direct Seller status can take part in it.
---
The reward for successful participation in the promotion — a five-day trip to Vietnam!
This country can surprise even the most demanding tourist. We have planned the trip so that you could see the best places to visit in Vietnam.
Enjoy a sea adventure
What is Vietnam known for? The picturesque Halong Bay with its thousands of islands immediately comes to mind. Everyone who has ever seen photographs or heard stories of travelers about Halong Bay dreams of visiting it. This place seems to be specially created by nature to amaze the imagination and cause delight.
We will organize an unforgettable Halong Bay cruise for you. You will be spellbound by the breathtaking scenery and amazed at how diverse the world is. The bay is full of surprises: majestic rocks, caves, lagoons, floating villages... There is something interesting around every corner. Get ready to take many impressive pictures!

The emotions that you get during the cruise will boost your energy for further entertainment. A vibrant party awaits you right on the deck of the cruise ship. Put on your dancing shoes and celebrate life together with other participants of the trip!
Discover the mysterious Hanoi
Apart from natural beauty, Vietnam is also rich in history and distinctive culture. This is best experienced in Hanoi. You will go on an exciting sightseeing tour around the country's capital, and the ancient city will reveal all its secrets.
The Old Quarter with a thousand-year history awaits you. Walk along the narrow streets, feel the unique rhythm of Vietnamese life, try local delicacies.
You will check out man-made wonders along the way — architectural monuments of different eras and styles. Ho Chi Minh Mausoleum, Hanoi Opera House and other magnificent buildings will appear in all their glory before your very eyes.
A piece of charming Vietnamese nature can also be found in Hanoi. You will certainly be amazed by Hoàn Kiếm Lake, which countless guests of the capital strive to see.
Do not miss the opportunity to visit the country that tourists from all over the world adore!
Hospitable Vietnam awaits you!
---
Fulfill the conditions of the Golden Path promotion and start packing your travel bag!