One set — multiple favorable advantages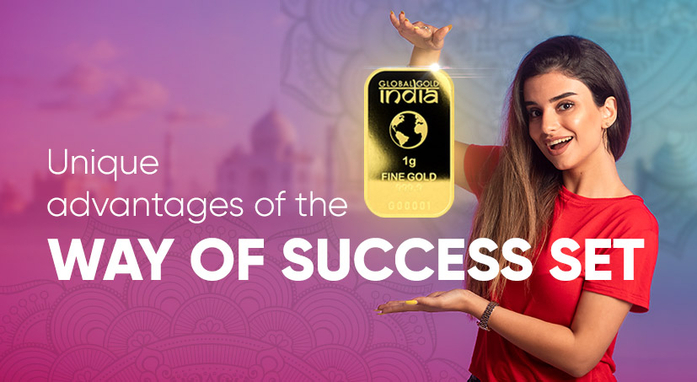 The main value in our business is people. The overall success depends on how successful, inspired and happy each individual member of the team is.
We support everyone: both those who have been cooperating with us for a long time, and those who are just about to join the business. For each of you, Global IndiaGold has prepared a set with unique advantages:
WAY OF SUCCESS SET
Success Framework Workbook + Gold Lite Kit Bar 1.00 g X 8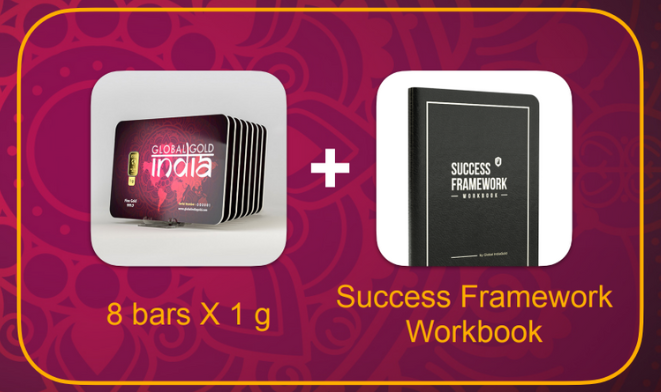 We are convinced that you do not want to stand still, you crave for speedy achievements, significant results, and all this requires constant movement forward. For that, only the right impetus is needed, and the WAY OF SUCCESS SET will create this impetus.
What does the set give Direct Seller?
For each set sold, Direct Seller instantly receives 2,000 bonuses, without waiting for the table to close.
Successful action is rewarded instantly! For the first time on the online platform, a set providing such an advantage is presented.
What does the set give the client?
A client who buys the WAY OF SUCCESS SET receives tools for gaining wisdom and material well-being: Workbook and gold bars.
In addition, the client receives 15,000 points to participate in the table of the GoldSet marketing program. It remains only to become a Direct Seller and start your own business!
After closing the table, it is enough to buy up 1 gram of gold in order to be placed in the new Lite table and continue to earn.
AND THAT'S NOT ALL! Every 5 WAY OF SUCCESS SETS purchased bring the buyer an additional reward — a gold bar weighing 1 gram!*
* An additional reward is credited in case the buyer becomes or already is a Direct Seller of the Global IndiaGold platform.
One set — multiple favorable advantages!
Develop the business, increase earnings and enjoy regular success!
Attention! The number of WAY OF SUCCESS SETS is limited. Hurry up to use the opportunities provided!