Secure your prosperous future!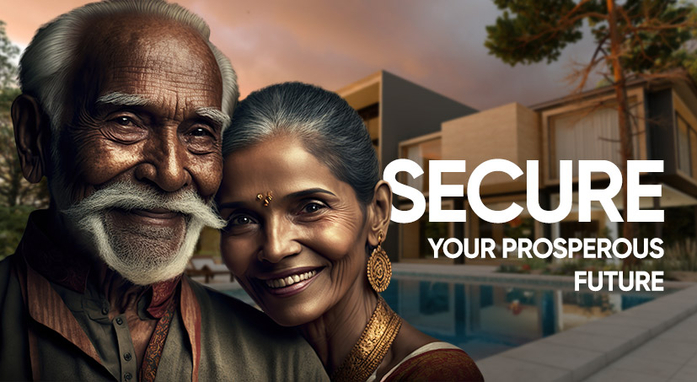 The Indian financial publication Mint published the results of a study among the population of India. The results of the survey by Sambodhi Research and pinBox Solutions showed that 28% of those surveyed have not even started saving for retirement. 52% of respondents hope that they will be supported by children. The numbers clearly demonstrate that most people do not think about how to secure the future on their own. Such an approach deprives one of confidence in the future and can lead to sad consequences.
In order for a person not to be burdened with unnecessary worries in his/her golden years, it is necessary to think about the financial plan as soon as possible and try to fulfill it.
Protection from inflation
When you have a stable job, it is easier to allocate a budget and save money. However, in such uncertain times, it is difficult to find a regular income. Even formal employment does not guarantee stability. Money depreciates and the future is susceptible to risks.
A person who has savings feels much more confident. Financial Security is, first of all, the stability of your financial situation.
The most important defensive asset is gold — a valuable and noble metal. It is gold that helps to preserve and accumulate funds despite inflation and economic crises.
The precious metal becomes more and more expensive over time, so people who invest in the reliable asset will be protected from risks.
On the graph below, the rise of the price of gold over the past 10 years can be clearly seen. The yellow metal only rose in price over time, its value did not decrease.
10 Year Gold Price History in Indian Rupees per Ounce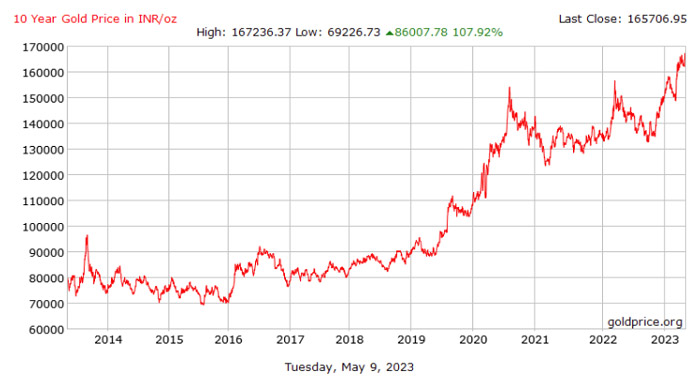 Conclusion: gold is profitable to buy because its value grows in the long term.
Market expert Sugandha Sachdeva believes that the price of an ounce of gold remaining above the $2,000 mark in the international market could be auspicious for the domestic market as well. According to the expert, this could lead to the noble metal being valued at ₹61,500 per 10 grams in India. Reaching this important milestone would mean that, under the right circumstances, gold could potentially soar to ₹62,500 per 10 grams in the near future.
Invest in the valuable asset
The sooner you think about your future, the more benefits you will have in your golden years.
Global IndiaGold offers kits of eight investment gold bars weighing 1 gram — an opportunity to take a step towards creating a personal gold reserve.
Global IndiaGold will help you gain confidence and strengthen Financial Security.
The purchase of gold investment bars opens access to the GoldSet marketing program and makes it possible to receive remuneration for cooperation with the online platform.
Global IndiaGold — Earn Smart